Superintendent's Notes
Strong Partnerships: Key to Our Success

This past month, during back to school staff and community presentations, we have been sharing the story of successful community partnerships that make our neighborhood schools great. We showed a video to highlight some of our key partnerships, and I explained the MAISD's four collaborative focus areas for 2016-17. They are: 1) kindergarten ready, 2) reading/math proficient by third grade, 3) career aware and college ready, and 4) support for public education. Of course our children cannot be the best learners they can be if they are not healthy, so wellness surrounds each of these four areas.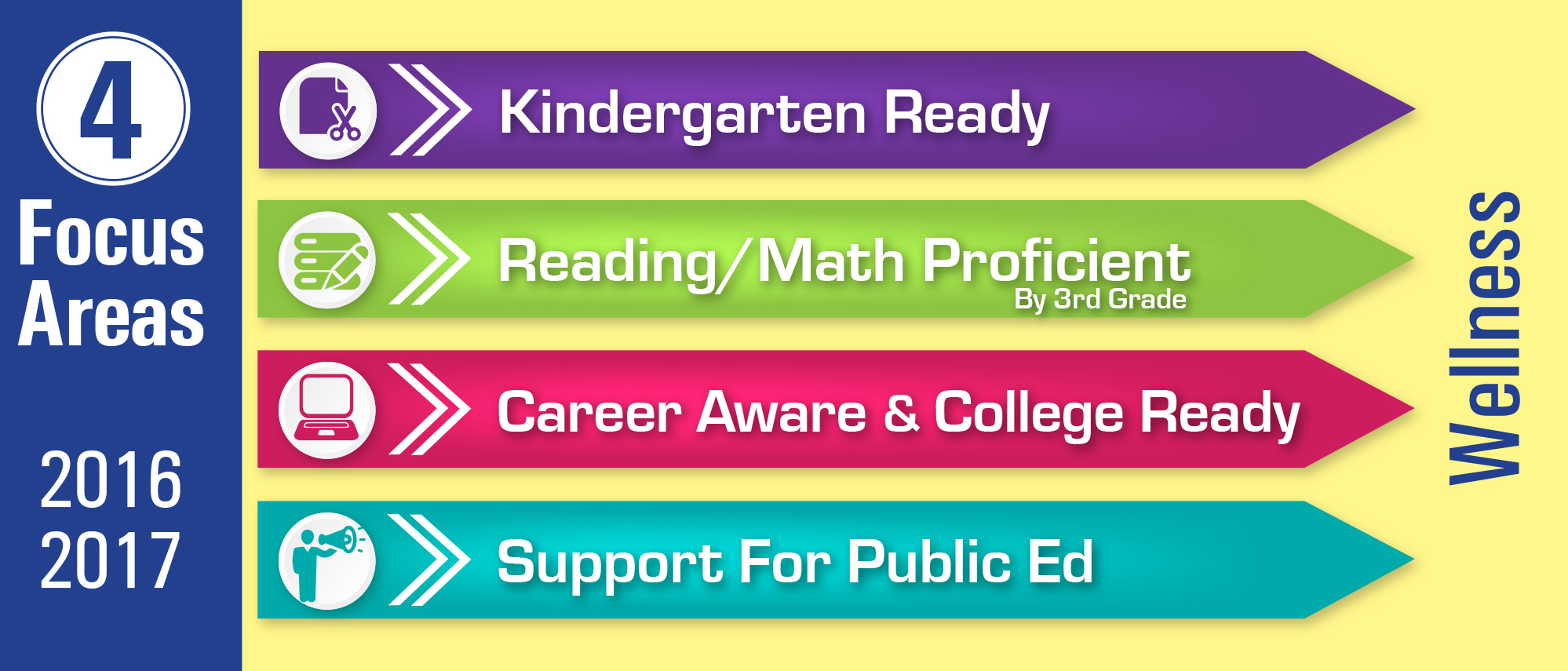 Already this year, there have been exciting developments in our focus areas. In the area of kindergarten readiness our newly restructured Head Start program is completely staffed with full enrollment; our Early Head Start program is serving 143 families this year—up from 90 last year; and a United Way effort to mail books to the homes of our youngest children now benefits children countywide. We continue to distribute about 2,000 books a month through the Read early. Read often. program as well.

In the area of reading and math proficiency, The Muskegon County Literacy Collaborative (MCLC) will be kicking off the school year on October 6 with research expert Dr. Nell Duke to help guide discussion and decision making to support the Superintendents' literacy goals around the "Essential Instructional Practices for Early Literacy" for kindergarten through the 3rd grades. Through our federal Math Recovery grant, our preschool teachers received training on how to support the development of early numeracy, and eight of our school districts have trained teams of teachers. Preliminary data shows a positive impact on student learning.
In the area of career awareness and college readiness we are piloting a new "Futures Center" in the Muskegon Area Career Tech Center staffed with career and college experts. We are also planning for a record number of over 2,000 students to attend the 8th Grade Career Fair at the Career Tech Center. Of course our biggest news is the expansion of the Muskegon Area Promise throughout all 16 high schools within Muskegon County. This is a game-changer for our families.
When it comes to wellness, we are grateful to Larry Hines and others who invested $250,000 to provide the be nice. curriculum to every school in our county for five years. In addition, our team is working closely with HealthWest, Montague Public Schools, and other health providers in supporting and coordinating a countywide Student Support Summit focused on mental health. It will be held at Montague Area Public Schools on November 7, 2016, and will feature Adam Swanson, Senior Prevention Specialist from the Suicide Prevention Resource Center in Washington, D.C., and Patricia K. Smith from the Michigan Department of Community Health Violence Prevention Program. Topics will include mindfulness, resilience, coordinated care, the first 48 hours after a crisis, positive behavior support, system of care, and response to trauma.
While generating support for public education is accomplished through our community partners, we are also fortunate to have a voice in Lansing through the West Michigan Talent Triangle. Chris Glass is a tireless advocate for the best interest of the children of Muskegon, Ottawa, and Kent ISDs.
One reason we are achieving so much traction within our focus areas is the continued collaborative leadership of our local district superintendents through the Reading and Careers Committees. Together we are leveraging the best thinking of our school leaders to accomplish change on a countywide level. This is worthy work and the results are good for all of our kids.


Dr. John Severson
Muskegon Area ISD Superintendent