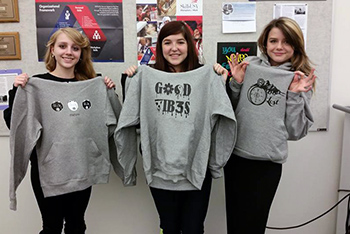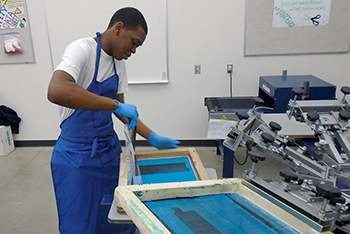 Graphic Production Technologies
Our unique program offers students the opportunity to learn and work with industry-standard equipment to prepare for careers in digital design and production. Students will design products based on their own ideas using professional design software such as Adobe Creative Cloud and Macintosh computers. After the design process, students will use operations such as electronic pre-press, digital imaging and scanning, digital printing, screen printing, laser etching, bindery, and dye sublimation printing to create finished products. Students will work as a team to gain technical expertise and important employability and customer service skills including scheduling, estimating, and quality control.
For more information on this program download a Graphic Production Technologies brochure.​
Academic Credit
Students who successfully complete this course may be eligible for the following academic credit (See your high school counselor for more information.): English, Math, Visual Performing & Applied Arts, 20-hour Online Experience.
Articulated College Credit
Students who successfully complete this course may receive articulated college credit to the following schools: Baker College, Davenport University, Ferris State University, and Muskegon Community College. For information on how to earn articulated credit contact Mrs. Pulsipher at the MACTC
Direct College Credit
Students who successfully complete this courses may receive direct college credit to Muskegon Community College. A list of classes that offer direct credit may be found here.
Meet the instructors
The teachers and parapros at the Muskegon Area Career Tech Center (MACTC) all come from the industry they now teach.
Instructor: Christine Bell
Bio: Mrs. Bell has her bachelor's degree from Kendall College of Art and Design, her Teaching Certificate from Ferris State University, and her master's degree from Cornerstone University. Before teaching, Mrs. Bell spent twelve years as a graphic designer. She then served as a parapro at the Career Tech Center for five years before becoming the primary instructor. In her free time she enjoys hanging out with her family (sons Joey and Danny and husband Paul) and her four dogs (Liberty, Tinker, Maggie Mae, and Chief).
Paraprofessional: Laurie Hundt
Bio: Mrs. Hundt has her AS degree in Fine Arts and AAS in Visual Communications from Northwestern Michigan College. She went on to earn her BFA in Visual Communications from Kendall College of Art and Design. Past work experience includes photography, graphic design, and work as a copy shop supervisor. In her free time she enjoys photography, arts and crafts, and riding her Harley.