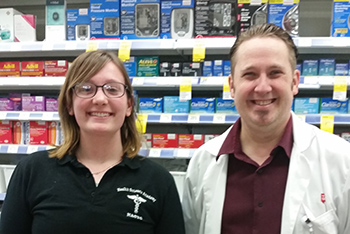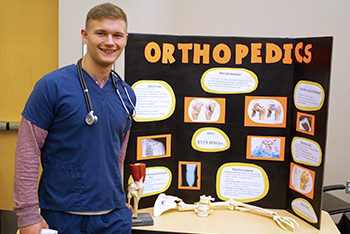 Health Science Academy
The demand for qualified health care professionals is growing each year, and predictions indicate the need to fill medical vacancies will significantly increase over the next 20 years. Returning Career Tech Center students, who successfully completed the Allied Health Technology course, may apply to the Health Science Academy (HSA). HSA is an advanced program designed to provide students with direct college credit, clinical internships, as well as advanced certifications to better prepare them for healthcare-related careers. HSA students are members of HOSA: Future Health Professionals, an international organization that develops leadership and technical skills competencies.
For more information on this program download a Health Science Academy brochure.
Certifications
Basic Life Support Provider
First Aid
HIPPA/Bloodborne Pathogen
Nursing Assistant
Pharmacy Technician
Academic Credit
Students who successfully complete this course may be eligible for the following academic credit (See your high school counselor for more information.): English, Math (if students successfully complete the optional Pharmacy Tech certification), Visual/Performing Arts, 20-hour Online Experience.
Articulated College Credit
Students who successfully complete this course may receive articulated college credit to the following schools: Baker College, Davenport University, Ferris State University, and Grand Rapids Community College. For information on how to earn articulated credit contact Mrs. Pulsipher at the MACTC.
Direct College Credit
Students who successfully complete the Health Science Academy program may receive direct college credit to Baker College or Muskegon Community College. A list of classes that offer direct credit may be found here.
Meet the instructor
The teachers and parapros at the Muskegon Area Career Tech Center (MACTC) all come from the industry they now teach.
Instructor: Kathy Andrews
Bio: Mrs. Andrews has a Bachelor's of Science degree from Wayne State University and a Master's degree in Educational Leadership from Western Michigan University. She also served as the Occupational Therapy Assistant Department Chair at Baker College and adjunct instructor at Muskegon Community College. In addition to teaching, she has a clinical background in inpatient/outpatient, rehab, and work-reconditioning settings. She loves hanging out with family and enjoys the beach and traveling.