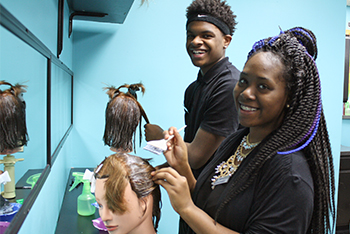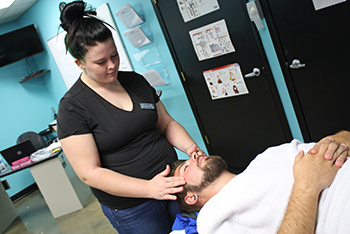 Cosmetology
We all like to look our best. As a cosmetologist, you will learn the latest beauty industry techniques in skin, nail, and hair care. Apply what you learn during lecture through hands-on experience in hair cutting, styling, coloring, and shampooing. If you enjoy helping people look and feel their best and want a fast paced, progressive career, then Cosmetology may be the place for you. Our 1500-hour program will provide techniques and the training you will need to prepare for the State of Michigan Cosmetology Licensing Examination.
For more information on this program download a Cosmetology brochure.
Certifications
Students completing the necessary 1,500 hours may take the State of Michigan Cosmetology Exam and earn their Michigan Cosmetology License.
Academic Credit
Students who successfully complete this course may be eligible for the following academic credit (See your high school counselor for more information.): Visual Performing & Applied Arts and 20-hour Online Experience.
Articulated College Credit
Students who successfully complete this course may receive articulated college credit to the following schools: Baker College and Davenport University. For information on how to earn articulated credit contact Mrs. Pulsipher at the MACTC.
Direct College Credit
Students who successfully complete select MACTC courses may receive direct college credit to specific colleges and universities. Direct credit is currently unavailable for this program. A list of classes that offer direct credit may be found here.
Meet the instructor
The teachers and parapros at the Muskegon Area Career Tech Center (MACTC) all come from the industry they now teach.
Instructor: Heather Helms
Bio: Heather is a graduate of Orchard View High School and Booker Institute of Cosmetology. She has been a licensed cosmetologist for eleven years. In 2011, she graduated from the instructor course at Nuvo College of Cosmetology. In her free time, she likes to hang out with her best friend–her son as well as hosting get-togethers with family and friends.