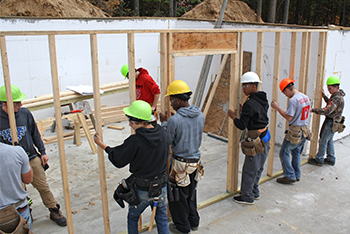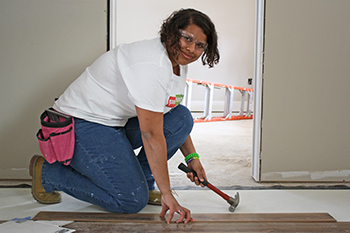 Construction Trades
Our Construction Trades program is designed to teach students the basics of residential construction while demonstrating how those skills can apply to a variety of high-skill, high-wage, high-demand careers within the industry. In this class, students will work as a team to build a home from foundation to completion, while learning cutting-edge techniques used in both residential and commercial construction. Emphasis is placed on safety, energy efficiency, sustainability, and environmentally friendly practices.
For more information on this program download a Construction Trades brochure.
Certifications
OSHA 10-Hour Construction Safety Certification
60 hour Pre-license Builder Training
Academic Credit
Students who successfully complete this course may be eligible for the following academic credit (See your high school counselor for more information.): Math, Visual Performing & Applied Arts.
Articulated College Credit
Students who successfully complete this course may receive articulated college credit to the following schools: Davenport University. For information on how to earn articulated credit contact Mrs. Pulsipher at the CTC.
Direct College Credit
Students who successfully complete select CTC courses may receive direct college credit to specific colleges and universities. Direct credit is currently unavailable for this program. A list of classes that offer direct credit may be found here.
Meet the instructors
The teachers and parapros at the Career Tech Center (CTC) all come from the industry they now teach.
Instructor: Brian Peets
Bio: A Spring Lake native, Brian has worked in the construction industry for over 20 years. A former college baseball player, Brian has a Bachelor's degree from Ferris State University and is working toward his Master's. Brian enjoys hunting, sports, and spending time with his family.
Instructor: Holly Pontius Stout
Bio: Ms. Pontius has worked in the construction industry for over 15 years. She has a Bachelor of Science in Construction Management from Central Michigan University. Ms. Pontius has worked in residential construction management and custom home construction, as well as Habitat for Humanity.
Paraprofessional: Lonnie (Chip) Vasquez
Bio: Chip is a 1993 graduate of Mona Shores High School. After graduation he moved to Gainesville, Florida where he pursued a career in professional golf before moving back to the area to take advantage of a golf scholarship at Muskegon Community College. Since then he has work construction as well as coached girl's lacrosse. In his free time he enjoys playing golf and watching college football.