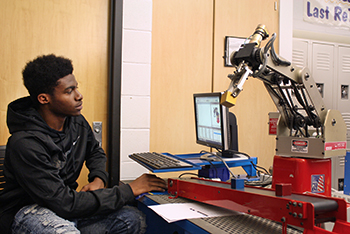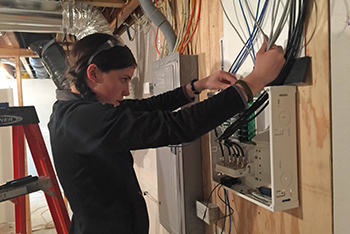 Electrical/Computer Technologies
Students install high/low voltage and data wiring systems, explore alternative energy and robotic programming, use millimeters, wave generators, and oscilloscopes, and operate a computer and electronics repair store. CompTIA A+, Electrical Interim Credential, ETA RESI-Residential Electronics System Integrator, and OSHA 10-Hour Safety certifications are available in addition to fourth-year math and college credit. Related careers include, but are not limited to, electrician, telecommunications technician, home security installer, computer and electronics repair technician, engineering, and robotics
Download the Electrical/Computer Technologies brochure.
College Credit
Students who successfully complete this course may receive articulated college credit to the following schools: Baker College, Davenport University, Grand Rapids Community College, and Muskegon Community College. For information on how to earn articulated credit contact Mrs. Pulsipher at the CTC.
Students who successfully complete this class may earn direct credit to Muskegon Community College. A list of classes that offer direct credit may be found here.
Meet the instructor
The teachers and parapros at the Career Tech Center (CTC) all come from the industry they now teach.
Instructor: Brian Blanchard
Bio: Mr. Blanchard graduated from Manistee High School before attending Michigan Tech University where he earned his associate's degree in Mechanical Design/Engineering Technology and in Electromechanical Engineering Technology. He also has a BS in Manufacturing Engineering Technology and an MS in Career & Technical Education from Ferris State University. Before teaching he had over twelve years of industry experience working as a manufacturing supervisor, quality engineer, account manager, and director of engineering and sales. He enjoys outdoor sports and spending time with family and friends.