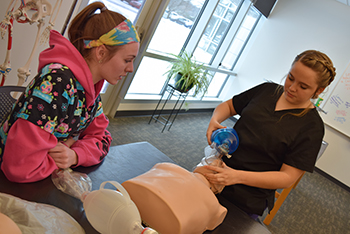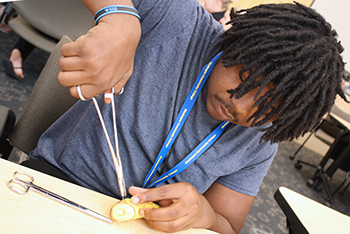 Allied Health
This intensive introductory course prepares students for in-demand health careers. Students study basic patient care such as blood pressure monitoring, pulse and respiration, therapeutic activity, and safety and infection control. Certifications offered include CPR/AED, First Aid, HIPPA, and Bloodborne Pathogens. Students successfully completing the Allied Health program may enroll in the Health Science Academy for a second year of more in-depth study. Successful students may also enroll in the Bio Tech/Engineering program their second-year.
For more information on this program download an Allied Health brochure.
Certifications
Blood Borne Pathogens (BBP)
CPR/AED
First Aid
Academic Credit
Students who successfully complete this course may be eligible for the following academic credit (See your high school counselor for more information.): English, Visual/Performing Arts.
Articulated College Credit
Students who successfully complete this course may receive articulated college credit to the following schools: Baker College, Davenport University, Ferris State University, and Grand Rapids Community College. For information on how to earn articulated credit contact Mrs. Pulsipher at the CTC.
Direct College Credit
Students who successfully complete select MACTC courses may receive direct college credit to specific colleges and universities. Direct credit is currently unavailable for this program. A list of classes that offer direct credit may be found here.
Meet the instructors
The teachers and parapros at the Career Tech Center (CTC) all come from the industry they now teach.
Instructor: Kathy Van Til, Section I
Bio: Mrs. Van Til graduated with a BA in Education from Western Michigan University and as a Certified Occupational Therapy Assistant from Grand Rapids Community College. She has worked in various clinical settings, including Mary Free Bed Rehabilitation Hospital, Holland Homecare, and Concept Care. She also taught Occupational Therapy at Baker College. In her free time she loves to travel.
Instructor: Laura Callahan, Section II
Bio: Mrs. Callahan graduated from Western Michigan University with a Bachelors of Science in Occupational Therapy. She has worked in numerous clinical settings including Good Shepherd Rehabilitation Hospital, Mary Free Bed Rehabilitation Hospital, Generation Care (acute care, long-term care, outpatient, home health), and Comstock Park Public Schools. She is a mother of three boys and enjoys her dog, camping, boating, snow skiing, and raising monarch butterflies.
Instructor: Colleen Hallorah-VanderWier, Section III
Bio: Mrs. VanderWier is a graduate of Muskegon Catholic Central High School. She then went to Muskegon Community College where she earned her associates degree before moving on to GVSU where she earned her bachelor's degree in Health Science and a Master's Degree in Physical Therapy. She has been a physical therapist for 26 years including work at Muskegon Public Schools as a physical therapist. She has also worked in long-term care and inpatient rehab at Mary Free Bed Hospital. In her free time she enjoys spending time outdoors with her husband hiking, biking, snow shoeing, and sailing. She also loves to read and travel whenever possible.
Parapro: Joyce Andree
Bio: Mrs. Andree is a graduate of North Muskegon High School, Muskegon Community College, and Hackley School of Nursing where she earned her Registered Nurse (RN) certification. Once certified, she served as an RN for Muskegon General Hospital, Visiting Nurses Services, and Hackley Hospital. Her areas of service included pediatrics, home health, outpatient oncology, and radiology. She loves to read, go camping, outdoor activities, and any kind of travel.
Parapro: Shannon Rowley
Bio: Mrs. Rowley is a graduate of Spring Lake High School as well as Baker College and Central Michigan University. She has worked as an Exercise Physiologist/Physical Therapist Assistant, has 15 years of clinical experience in Acute and Long Term Care settings, and has served as an Instructor/Lab assistant at Baker College (part-time) in the Physical Therapist Assistant program. In her free time she enjoys spending time with her husband and three children as well as fitness, skiing, and keeping active.