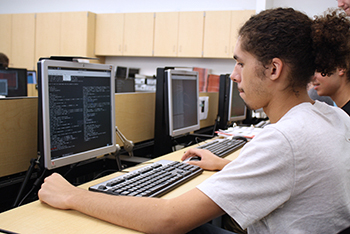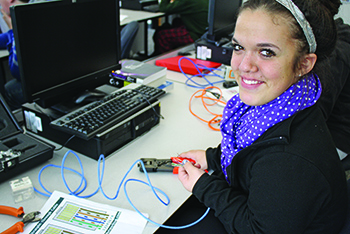 Internet, Networks and Security
Interested in earning an industry-recognized certification in networking and Cisco routing? How about becoming a certified security professional? Does creating apps for mobile devices or the next big video game sound like fun? All of this and more are offered in our Internet, Networks & Security program (INS). INS offers access to state-of-the-art technology and the opportunity to achieve valuable and marketable skills–and have fun doing it! The top seven job growth areas in Michigan and the U.S. are in the Information Technology industry. Join us to learn the skills needed in the valuable ever-changing world of Internet, Network & Security Technologies.
For more information on this program download an Internet, Networks & Security brochure.
Certifications
Microsoft Technology Associate (MTA) Networking Fundamentals
MTA Security Fundamentals
CompTIA IT Fundamentals
CompTIA A+
CompTIA Network+
CompTIA Security +
Cisco CCENT
Academic Credit
Students who successfully complete this course may be eligible for the following academic credit (See your high school counselor for more information.): English, Math, Visual Performing & Applied Arts.
Articulated College Credit
Students who successfully complete this course may receive articulated college credit to the following schools: Baker College, Davenport University, Grand Rapids Community College, and Muskegon Community College. For information on how to earn articulated credit contact Mrs. Pulsipher at the CTC.
Direct College Credit
Students who successfully complete select CTC courses may receive direct college credit to specific colleges and universities. Direct credit is currently unavailable for this program. A list of classes that offer direct credit may be found here.
Meet the instructor
The teachers and parapros at the Career Tech Center (CTC) all come from the industry they now teach.
Instructor: Susan Rhem-Westhoff
Bio: Mrs. Rhem-Westhoff attended Spring Lake High School, but graduated from Riverview High School in Sarasota, FL. She went on to major in Management and Information Systems and minor in Accounting at the University of South Florida. Before coming to teach at the Career Tech Center, she worked in the industry as a systems analyst/programmer and developed wireless software and security devices for wireless networks. She is a distance runner, backpacker, and wolf watcher dedicated to protecting all things outside in the natural world. She also enjoys spending time with her husband, three children, and five fur-kids (two dogs and three cats).