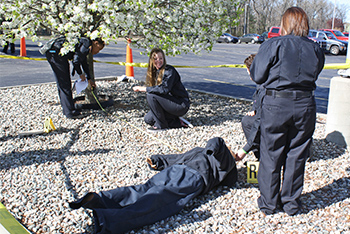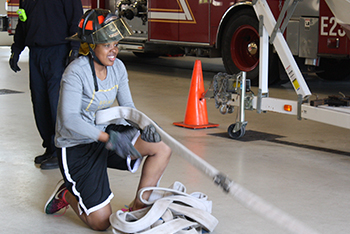 Criminal Justice
The Criminal Justice class is a one-year program with the opportunity for select students to earn placement into a second-year multi-agency internship program. The course will explore the foundations of the Criminal Justice system as well as academic and technical skills, which include self-defense and weapon safety. Some aspects of the program include: Law Enforcement, Courts and Corrections, and Fire/EMS Training. Students will also be tested for cardio-pulmonary resuscitation (CPR) certification and Community Emergency Response Training (CERT). Students who successfully complete this class will gain the knowledge and skills necessary to advance into a post-secondary program.
For more information about this program download a Criminal Justice brochure.
Certifications
Academic Credit
Students who successfully complete this course may be eligible for the following academic credit (See your high school counselor for more information.): English, Visual Performing & Applied Arts, and 20-hour Online Experience.
Articulated College Credit
Students who successfully complete this course may receive articulated college credit to the following schools: Baker College, Davenport University, Grand Rapids Community College, and Muskegon Community College. For information on how to earn articulated credit contact Mrs. Pulsipher at the MACTC.
Direct College Credit
Students who successfully complete this course may earn direct credit to Muskegon Community College. A list of classes that offer direct credit may be found here.
Meet the instructors
The teachers and parapros at the Muskegon Area Career Tech Center (MACTC) all come from the industry they now teach.
Instructor: Karen Reynolds
Bio: Mrs. Reynolds has a Master's Degree from Western Michigan University. She is also retired from the Wyoming Police Department. In her free time, she enjoys kayaking and spending time with her family and outdoors.
Parapro: Mark Lewis
Bio: Mr. Lewis graduated from Taylor High School in North Bend, Cincinnati, Ohio. He is also a graduate of Muskegon Community College. He has 35 years of law enforcement experience: ten years in the US Army Military Police and 25 years at the Muskegon Police Department. At the time of his retirement, he was the Patrol Captain in charge of 62 officers and commanders. In his free time, he enjoys volunteering, theater, music, and kayaking.