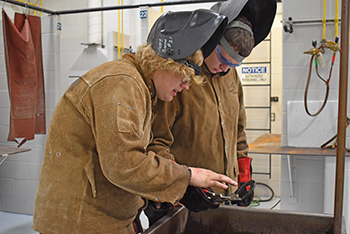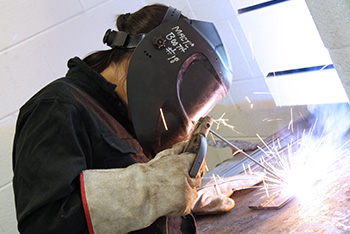 Welding Technology
Welding Technology students prepare for employment in welding careers that are associated with manufacturing, skilled trades, and/or admission to post-secondary welding technology programs. The curriculum emphasizes hands-on instruction. Students study and apply the major arc welding processes used today such as the MIG, TIG, SMAW, Oxy-Fuel, and Flux Core welding processes. In addition, students learn to operate the lab's CNC plasma cutter to cut steel up to 3/4" thick! Lessons combine the study and application of math, brazing, soldering, cutting, measuring, welding metallurgy, inspection/testing, blueprint reading, welding symbols, safety procedures, and application of codes and standards.
For more information on this program download a Welding Technology brochure.
Academic Credit
Students who successfully complete this course may be eligible for the following academic credit (See your high school counselor for more information.): Math, Visual/Performing Arts.
Articulated College Credit
Students who successfully complete this course may receive articulated college credit to the following schools: Baker College, Davenport University, Ferris State University, Grand Rapids Community College, and Muskegon Community College. For information on how to earn articulated credit contact Mrs. Pulsipher at the CTC.
Direct College Credit
Students who successfully complete the Welding Technologies program may receive direct college credit to Muskegon Community College. A list of classes that offer direct credit may be found here.
Meet the instructors
The teachers and parapros at the Career Tech Center (CTC) all come from the industry they now teach.
Bio: Mr. Bulthouse is a graduate of Fruitport High School. He went on to attend Baker College and the National Labor College. His industry experience includes working as a journeyman sheet metal worker before teaching Welding Technology here at the Tech Center. He is also an adjunct instructor in the Welding program at Muskegon Community College. In his free time, he enjoys cruising around in his Jeep or on his motorcycle as well as salt water fishing.
Parapro: Sam Wackernagel
Bio: Mr. Wackernagel is a graduate of Montague High School and the welding program at Muskegon Community College. Before starting at the Career Tech Center, Sam worked at White River Farms where he performed maintenance welding and served as a heavy equipment operator. In his free time, he enjoys swimming, relaxing, and getting ice cream. He also likes to sneak a peek at all the cool equipment at John Deere by touring their plant in Illinois when he can get away.