Internet, Network & Security Technologies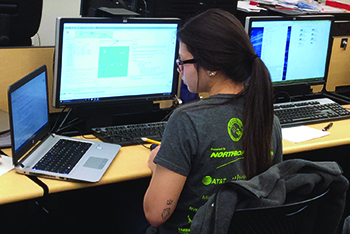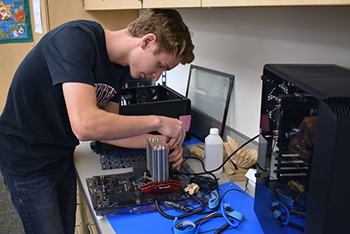 Course Overview
Students learn skills in computer networking, video game development, cyber security, mobile app creation, and computer hardware. Earn certifications including Networking Fundamentals, Security Fundamentals, CompTIA A+, CompTIA Network+, CompTIA Security+. English, 4th year math, and college credit are available. Related careers include, but are not limited to, network engineer, security analyst, computer programmer, video game developer, and data forensics specialist.
Download the Internet, Network & Security Technologies brochure.
College Credit
Students who successfully complete this course may receive articulated college credit to the following schools: Baker College, Davenport University, Grand Rapids Community College, and Muskegon Community College. For information on how to earn articulated credit contact Lindsay Pulsipher at the CTC.
Students who successfully complete select CTC courses may receive direct college credit to specific colleges and universities. Direct credit is currently unavailable for this program. Our direct credit flier has a list of all participating classes.
Tour the classroom
Enjoy this tour of the Internet, Network and Security Technologies classroom featuring individual computer work stations, cyber-security training network in the back row, and Cisco academy router and switches.
Instructor Bio
Instructor: Susan Rhem-Westhoff
Mrs. Rhem-Westhoff attended Spring Lake High School, but graduated from Riverview High School in Sarasota, FL. She went on to major in Management and Information Systems and minor in Accounting at the University of South Florida. Before coming to teach at the Career Tech Center, she worked in the industry as a systems analyst/programmer and developed wireless software and security devices for wireless networks. She is a distance runner, backpacker, and wolf watcher dedicated to protecting all things outside in the natural world. She also enjoys spending time with her husband, three children, and five fur-kids (two dogs and three cats).
Helpful Links:
State of Michigan Curriculum Segments

PC Hardware
Troubleshooting, Repair, & Maintenance
Operating System & Software
Safety
Security
Operational Procedure
Network Technologies
Network Hardware & Tools
Personal Skills & Customer Service
Network Management
Teamwork & Leadership
Network Analysis & Design