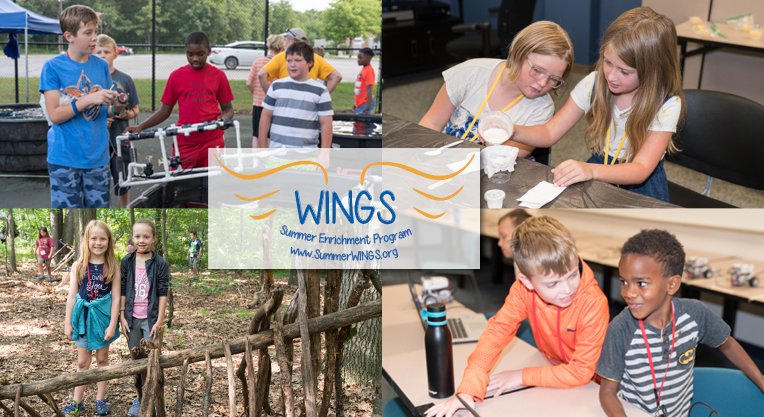 Teaching at WINGS
Teaching at WINGS can be a fun and rewarding experience. When applying to teach a class at WINGS, YOU design the class that YOU want to teach.
About the WINGS Program
WINGS classes are designed for advanced/accelerated students, but all are welcome.
WINGS classes take place during the last two weeks of July.
WINGS classes run Monday through Thursday, but teachers must be available on Fridays in case of a power outage, inclement weather, etc.
WINGS classes are divided into different grade levels. Classes are designed for 1st-2nd grade, 3rd-4th grade, and 5th-6th grade.
About Teaching at WINGS
WINGS teachers are not required to have a valid Michigan teaching certificate.
WINGS teachers must pass a background check.
WINGS teachers are required to attend a teacher orientation/training in June prior to WINGS.
WINGS teachers are paid a flat rate for designing, planning, and teaching classes.
Supplies for WINGS classes are paid for by the WINGS program.
Generally, the supply allowance is up to $5 per student. Exceptions must be pre-approved.
WINGS teachers are paid shortly after classes finish and supply purchases are reimbursed within 3-4 weeks.
Your class proposal should be exciting and interesting to potential WINGS parents and students. If your class doesn't have enough enrollment, it may not run. We welcome all applications, but not all may be accepted.
Applying to Teach at WINGS
If you're interested in teaching at WINGS, complete the forms below.
There are two steps to apply to teach at WINGS:
1. Submit your contact information, availability, and references.
2. Submit the class(es) you want to offer. You'll need a title, description, which grade levels the class would be appropriate for, and a list of activities for each day.
Applications to teach at WINGS 2021 are due no later than Friday, March 12, 2021.
You can also submit the form below to be added to our mailing list for WINGS teachers.