Bio Tech & Engineering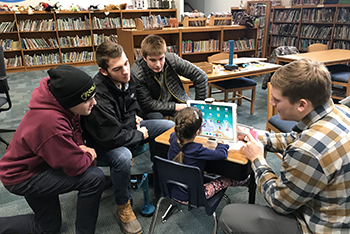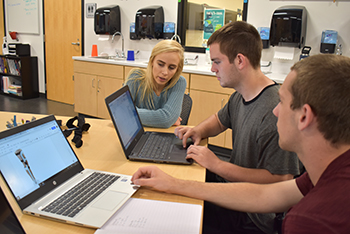 Designed for returning Allied Health, Auto Service, Computer-Aided Design, Internet, Network & Security, or Machining/Engineering Technology students
Students engage in project-based learning that combines science, engineering, and technology. Classmates explain and create solutions to real-world problems proposed by community and business partners. English, fourth-year math, and college credit are available. Related careers include, but are not limited to, computer programmer, engineer, physical therapist, occupational therapist, and biotechnical careers.
Download the Bio Tech & Engineering brochure.
College Credit
Students may receive articulated credit based on their first-year CTC program. Direct credit is currently unavailable for this program. Our direct credit flier has a list of all participating classes.
Tour the classroom
Enjoy this tour of the Bio Tech & Engineering classroom (also shared by the Allied Health I class) featuring ample work spaces for teamwork, 3D printers for prototyping, and whiteboards for group brainstorming sessions.
Instructor Bios
Instructor: Kathy Van Til
Bio: Mrs. Van Til graduated with a BA in Education from Western Michigan University and as a Certified Occupational Therapy Assistant from Grand Rapids Community College. She has worked in various clinical settings, including Mary Free Bed Rehabilitation Hospital, Holland Homecare, and Concept Care. She also taught Occupational Therapy at Baker College. In her free time she loves to travel.
Instructor: Brent Nummerdor
Bio: Mr. N (as his students know him) is a graduate of Reeths-Puffer High School, as well as Ferris State University, and Muskegon Community College. His work experience includes teaching machining to adult and alternative high school students, serving as a Dean of Students at Muskegon Community Ed, and later as a machining instructor at the Newago Career Tech Center. He then moved back "home" to teach the Machining/Engineering Technology program here. Mr. N enjoys spending time with his wife and two children, camping, boating, fishing, and shoveling snow (he finds it cathartic)! He also recognizes his geekiness, and in fact, revels in it.
Helpful links:
Course Prerequisite
In order to attend this program students must have completed the Allied Health, Auto Service, Computer-Aided Design, Internet, Networks & Security, or Machining/Engineering Technology program.