Auto Collision/Refinishing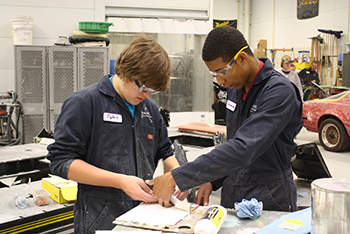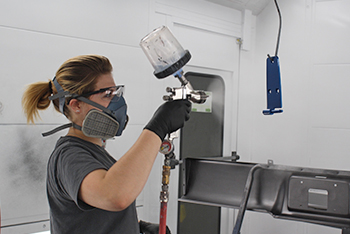 Course Overview
Students repair damaged vehicles by learning dent repair, welding techniques, panel replacement, surface preparation, estimating and painting. Automobile Service Excellence (ASE), I-CAR, and OSHA Safety certifications in addition to fourth-year math and college credit are available. Related careers include, but are not limited to, automotive painter, detailer, estimator, and management.
Download the Auto Collision/Refinishing brochure.
College Credit
Students who successfully complete this course may receive articulated college credit to the following schools: Davenport University, Universal Technical Institute, and Washtenaw Community College. For information on how to earn articulated credit contact Lindsay Pulsipher at the CTC.
Students who successfully complete select CTC courses may receive direct college credit to specific colleges and universities. Direct credit is currently unavailable for this program. Our direct credit flier has a list of all participating classes.
Tour the lab
Enjoy this tour of our Auto Collision/Refinishing lab featuring two industrial paint booths, welding stations, and high-quality Snap-On Tools,
Instructor Bios
Instructor: William Stone
Bio: Mr. Stone is a graduate of Fruitport High School with 30+ years of experience in automotive collision and repair. He also has his teaching degree from Grand Valley State University as well as his masters degree. In his free time he collects old books, and enjoys hunting, fishing, cooking, and of course restoring cars! His current project is a 1965 Chevy Truck.
Helpful links:
State of Michigan Curriculum Segments

Collision Orientation
Career and Employability Skills
Safety
Substrate Identification and Preparation
Refinishing Equipment
Undercoats and Corrosion Protection
Mixing and Applying Topcoat
Final Detailing
Advance Color Mixing/Refinishing
Paint Problems/Defects
Damage Analysis/Estimating
Refinishing Certifications