Machining/Engineering Technology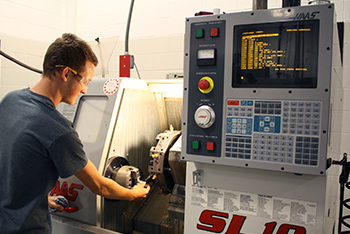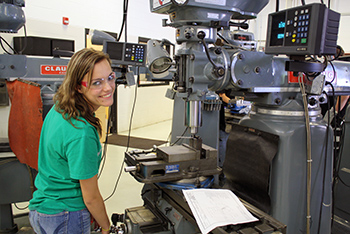 Course Overview
Students operate machining tools such as lathes, milling machines, grinders, drill presses, saws, and computer numeric controlled (CNC) machines to produce metal parts to meet precise specifications. Fourth-year math and college credit are available. Related careers include, but are not limited to, machinist, tool and die maker, industrial, mechanical, or manufacturing engineer, and CNC operator or programmer
This is also part of the Early College: Advanced Technology Institute program at Muskegon Community College.
Download the Machining/Engineering Technology brochure.
College Credit
Students who successfully complete this course may receive articulated college credit to the following schools: Davenport University, Grand Rapids Community College, Mid Michigan Community College, and Muskegon Community College. For information on how to earn articulated credit contact Lindsay Pulsipher at the CTC.
Students who successfully complete the Machining/Engineering Technology program may receive direct college credit to Muskegon Community College. Our direct credit flier has a list of all participating classes.
Tour the lab
Enjoy this tour of the Machining/Engineering Technology lab featuring professional lathes, mills, and computer numeric controlled (CNC) machines for students to practice hands-on skills.
Instructor Bios
Instructor: Brent Nummerdor
Mr. N (as his students know him) is a graduate of Reeths-Puffer High School, as well as Ferris State University, and Muskegon Community College. His work experience includes teaching machining to adult and alternative high school students, serving as a Dean of Students at Muskegon Community Ed, and later as a machining instructor at the Newago Career Tech Center. He then moved back "home" to teach the Machining/Engineering Technology program here. Mr. N enjoys spending time with his wife and two children, camping, boating, fishing, and shoveling snow (he finds it cathartic)! He also recognizes his geekiness, and in fact, revels in it.
Parapro: Jim Bradshaw
Mr. Bradshaw is a graduate of Fruitport High School. After graduation he attended Muskegon Community College. He was then hired by Lorin Industries where he worked as a millright and in machine repair until retiring in 1999. His hobbies include creative machine design, fishing, hunting, boating, and camping.
Helpful Links:
State of Michigan Curriculum Segments

Shop Safety
Metal Working Theory
Advanced Milling/Turning
Benchwork/MATs
Saws, Drills, Power Tools
Print Reading, GD&T, Inspection
Employment Skills/Work Habits
Lathe 1
Mill 1
Grinding
Maintenance and Set Up
CNC