Environmental/Veterinary Sciences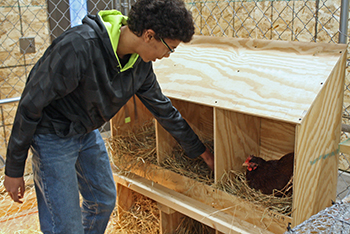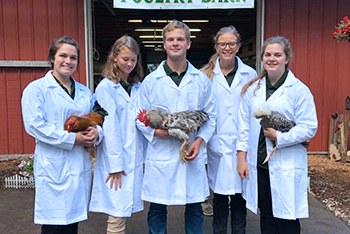 Course Overview
The Environmental and Veterinary Science (EVS) program provides students with an exploration of a wide range of topics within the agriculture, food, and natural resources industries. EVS is a one or two year program that allows students to engage in various activities related to animal anatomy and physiology, animal nutrition and care, greenhouse production, floriculture, beekeeping, and natural resources management. Students will have the opportunity to engage in STEM-centered curriculum and real-world applications of content in our greenhouse, barn, floral shop, and beehives. Several industry-recognized certifications are available. Additionally, high school credit and articulated college credit with various colleges and universities may be earned. Second year students have the opportunity to engage in work-based placements.
Download the Environmental/Veterinary Science brochure.
College Credit
Students who successfully complete this course may receive articulated college credit to the following school: Davenport University. Students who successfully complete their FFA State Degree may earn six credits to Michigan State University. For information on how to earn articulated credit contact Lindsay Pulsipher at the CTC.
Students who successfully complete select CTC courses may receive direct college credit to specific colleges and universities. Direct credit is currently unavailable for this program. Our direct credit webpage has a list of all participating classes.
Tour the classroom
Enjoy this tour of the Environmental/Veterinary Sciences classroom featuring large workspaces for practicing skills such as plant identification, floral design, and animal anatomy identification. The space also boasts a large greenhouse where students start seedlings for their outdoor raised garden.
Instructor Bio
Mr. Moser is a native of Michigan, and graduated from Dansville High School. He grew up on a small dairy farm and participated in the agricultural science program in his high school. After graduating high school, he attended Michigan State University where he earned his first degree in agricultural education. After completing student teaching at Byron High School, Mr. Moser attended the University of Kentucky where he earned his master's degree in Community & Leadership Development and taught undergraduate students. In his free time, Mr. Moser enjoys traveling to state and national parks, hiking, cooking, attending concerts, and spending time with loved ones.
Paraprofessional: Paige Lowe
Paige is a graduate of Grand Haven High School. While in high school she attended Careerline Tech Center's Agriculture Animal Science program. Outside of school she grew up competing on an equestrian travel team with her horses Jazz and Murphy. She also shows pigs at the Ottawa County Fair and Hudsonville Fair each year. In her free time she cares for her two rescue dogs, and loves to travel, hike, complete home improvement projects, and attend concerts.
Helpful Links:
Competencies
Agriculture, Food and Natural Resources Systems
Animal Systems
Plant Systems
Natural Resource Systems
Career Ready Practices