Environmental/Veterinary Sciences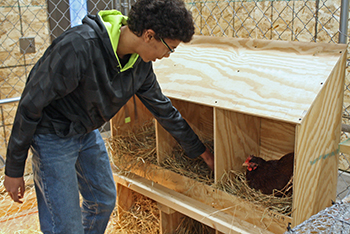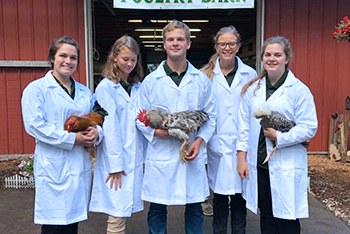 Course Overview
Students learn about agriculture and greenhouse systems; animal anatomy, physiology, nutrition, and care; create floral arrangements; and harvest honey from bee hives. Animal Science, CPR, Canine Care and Training, Green Industry Professional, Michigan Certified Florist, and OSHA certification, in addition to English and college credit, are available. Related careers include, but are not limited to, agriculture engineer, bee keeper, biologist, conservation officer, landscape designer, veterinarian, and water quality specialist
Download the Environmental/Veterinary Science brochure.
College Credit
Students who successfully complete this course may receive articulated college credit to the following school: Davenport University. Students who successfully complete their FFA State Degree may earn six credits to Michigan State University. For information on how to earn articulated credit contact Lindsay Pulsipher at the CTC.
Students who successfully complete select CTC courses may receive direct college credit to specific colleges and universities. Direct credit is currently unavailable for this program. Our direct credit flier has a list of all participating classes.
Tour the classroom
Enjoy this tour of the Environmental/Veterinary Sciences classroom featuring large workspaces for practicing skills such as plant identification, floral design, and animal anatomy identification. The space also boasts a large greenhouse where students start seedlings for their outdoor raised garden.
Instructor Bio
Instructor: Catherine Courtade
Katie (as she prefers to be called) is a graduate of Coopersville High School. After working as a Cosmetologist for a year, her career path took a turn when she chose to attend Michigan State University and pursue a Bachelor's degree in Agriscience Education. She then went on to earn a Master's Degree in Agriculture and Extension Education. Her love for learning helped her attain a Masters Degree in School Counseling as well! She is also a licensed foster care parent with the hope to adopt a child someday. In her free time, she enjoys traveling and hanging out with her family and friends.
Paraprofessional: Paige Lowe
Paige is a graduate of Grand Haven High School. While in high school she attended Careerline Tech Center's Agriculture Animal Science program. Outside of school she grew up competing on an equestrian travel team with her horses Jazz and Murphy. She also shows pigs at the Ottawa County Fair and Hudsonville Fair each year. In her free time she cares for her two rescue dogs, and loves to travel, hike, complete home improvement projects, and attend concerts.
Helpful Links:
State of Michigan Curriculum Segments

Safety
Animal Anatomy & Physiology
Animal Genetics and Reproduction
Domestic Animal Production
Animal Health & Nutrition
Plant Anatomy Physiology
Soils & Plant Nutrition
Plant Culture and Propagation
Natural Resource Systems
Environmental Service Systems
Agricultural Business & Marketing
Career Readiness & Leadership