Muskegon Opportunity
Our Story
Where we came from
For decades, people in Muskegon County enjoyed healthy eco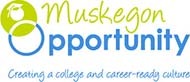 nomies that did not require much education. Young people could earn a high-school diploma or even drop out of high school, develop a skill in lumbering or manufacturing and be guaranteed work that would provide a good living. For generations, for those with deep roots in the area, as well as for those who came to the area as part of the World War II mobilization and during the 1950s and '60s, education rarely was a necessity, priority or expectation.
But nowadays, Muskegon County is a different place with a globally-oriented, knowledge-driven economy that requires a highly skilled, technologically savvy and educated workforce.
Where we are
Muskegon Opportunity offers a pathway and incentive for Muskegon County to participate in a national paradigm shift that already is well under way in many communities. Muskegon Opportunity works to prepare the youth of the area to successfully compete in the new global economy and provide them with an opportunity to achieve economic prosperity by creating a community culture of learning and supporting the proficient completion of high school and post-secondary education.
As an academic services program of the Muskegon Area Intermediate School District (MAISD), Muskegon Opportunity intends to develop a support system to help graduates within the MAISD boundaries access and obtain post-secondary education or career training. Our programs, services and resources strive to assure that every graduating high-school student is afforded the opportunity to acquire the education and skills required of today's workforce. We-and the community-can accomplish this goal by providing hands-on guidance and continued encouragement for those students in greatest need.
Muskegon Opportunity wants to expand its efforts. Our programs and services currently focus on middle and high-school students and their families, but soon we will also focus on younger students as well! Doing so allows even our youngest of learners and their families the chance to begin thinking about the need for post-secondary education AND the steps to take to successfully complete high school and prepare for higher education! Additionally, we also want to expand our partner collaborations to more organizations, students and families in the county giving us the increased opportunity to create sustained efforts in collaborative action for education attainment.


Only 18% of Muskegon County residents and 15% of Michigan residents over 25 years of age hold a bachelor's degree or higher.
Is this acceptable to you?
Join us in the pledge to
increase the percentage of Muskegon residents with high-quality degrees or credentials to 60% by the year 2025!
For more information about Muskegon Opportunity:
Megan Byard-Karaba
College Access Specialist/Promise Scholarship Coordinator
Muskegon Area Intermediate School District - MACTC
200 Harvey Street
Muskegon, MI 49442
231-767-3623 (office)
231-750-4105 (cell)
www.muskegonopportunity.com