Auto Service Technology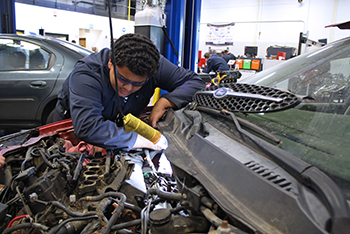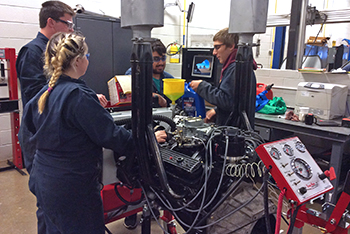 Auto Service Technology
Students perform alignments, engine rebuilds, brakes and driveline services, engine electronics programming, air conditioning repair, and other general automotive maintenance and services. Automobile Service Excellence (ASE) Student certification. English, 4th year math, and college credit are available. Related careers include automotive service technician, automotive service writer, automotive service manager.
Download the Auto Service Technology brochure.
College Credit
Students who successfully complete this course may receive articulated college credit to the following schools: Baker College, Davenport University, Delta College, Ferris State University, Grand Rapids Community College, Mid Michigan Community College, Muskegon Community College, University of Northwestern Ohio, and Washtenaw Community College. For information on how to earn articulated credit contact Lindsay Pulsipher at the CTC.
Students who successfully complete this course may receive direct college credit to Muskegon Community College. Our direct credit flier has a list of all participating classes.
Tour the lab
Enjoy this tour of our Auto Service lab featuring multiple lifts, a brand new Hunter Wheel Balancing system, Snap-On Tools, and more to equip students with the necessary skills to enter the automotive maintenance industry.
Instructor Bios
Instructor: Marshall Lystra
Mr. Lystra graduated from Grand Haven High School. He has his bachelors and masters degrees from Ferris State University. After college he worked as a Service Engineer for Ford Motor Co. In his free time he enjoys taking his Jeep up to the dunes at Silver Lake.
Paraprofessional: Jeff Montella
Helpful links:
State of Michigan Curriculum Segments

Engine Repair
Automatic Transmission and Transaxle
Manual Drive Train and Axles
Suspension and Steering Systems
Brakes
Electrical/Electronic Systems
Heating and Air Conditioning
Engine Performance
Required Supplemental Tasks
Facility & Mobile Equipment Maintenace
Transportation, Distribution & Logistics
Career Ready Practices