Auto Service Technology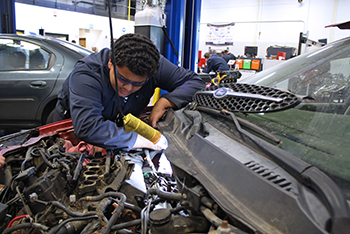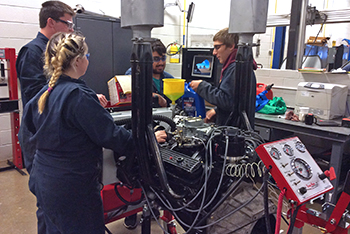 Auto Service Technology
Students perform alignments, engine rebuilds, brakes and driveline services, engine electronics programming, air conditioning repair, and other general automotive maintenance and services. Automobile Service Excellence (ASE) Student certification. English, 4th year math, and college credit are available. Related careers include automotive service technician, automotive service writer, automotive service manager.
Download the Auto Service Technology brochure.
College Credit
Students who successfully complete this course may receive articulated college credit to the following schools: Baker College, Davenport University, Delta College, Ferris State University, Grand Rapids Community College, Mid Michigan Community College, Muskegon Community College, University of Northwestern Ohio, and Washtenaw Community College. For information on how to earn articulated credit contact Lindsay Pulsipher at the CTC.
Students who successfully complete this course may receive direct college credit to Muskegon Community College. Our direct credit webpage has a list of all participating classes.
Tour the lab
Enjoy this tour of our Auto Service lab featuring multiple lifts, a brand new Hunter Wheel Balancing system, Snap-On Tools, and more to equip students with the necessary skills to enter the automotive maintenance industry.
Instructor Bios
Instructor: Jeff Mammoser
Mr. Mammoser has his Associates degree in Automotive Technology from Triton Community College. He has also completed courses in business management, welding, and education. For six years, he served as the Manager of Vehicle Service for Firestone and has spent ten years as an Automotive Technology Paraprofessional before coming to the CTC. In his free time, he and his wife love to camp and hike all over western Michigan with their dog. They have even visited every lighthouse in Lower Michigan!
Parapro: Steve Mikkelson
Mr. Mikkelson is a graduate of Montague High School. He comes to the CTC with a wealth of experience including an Associate of Applied Science in Industrial Engineering Technology from Muskegon Community College, a Bachelor of Arts in Manufacturing Engineering and a Master of Arts in Career and Technical Education from Western Michigan University. He also has 30+ years working in automotive and aerospace manufacturing facilities. His hobbies include most anything outdoors and he enjoys playing armchair General Manager for the Detroit Tigers and Red Wings.
Helpful links:
State of Michigan Curriculum Segments

Engine Repair
Automatic Transmission and Transaxle
Manual Drive Train and Axles
Suspension and Steering Systems
Brakes
Electrical/Electronic Systems
Heating and Air Conditioning
Engine Performance
Required Supplemental Tasks
Facility & Mobile Equipment Maintenace
Transportation, Distribution & Logistics
Career Ready Practices