Welding Technologies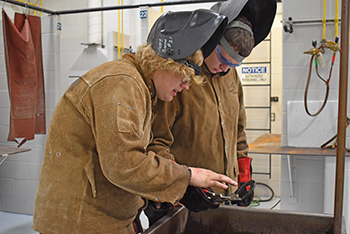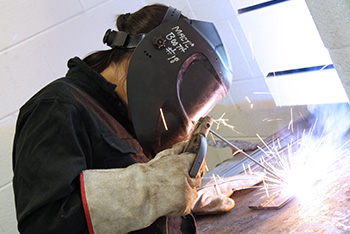 Course Overview
Students develop skills in gas metal arc (MIG), gas tungsten arc (TIG), stick electrode, and flux-core welding as well as plasma/thermal cutting processes. Fourth-year math and college credit are available. Related careers include, but are not limited to, pipefitters, sheet metal workers, iron workers, millwrights, and underwater welding
Download the Welding Technology brochure.
College Credit
Students who successfully complete this course may receive articulated college credit to the following schools: Alpena Community College, Baker College, Davenport University, Ferris State University, Grand Rapids Community College, Kirtland Community College, Mid Michigan Community College, Muskegon Community College, and Washtenaw Community College. For information on how to earn articulated credit contact Lindsay Pulsipher at the CTC.
Students who successfully complete the Welding Technologies program may receive direct college credit to Muskegon Community College. Our direct credit flier has a list of all participating classes.
Tour the lab
Enjoy this tour of our Welding Technology lab featuring individual workstations, AccurShear sheet metal cutter, and MultiCam 1000 Plasma cutter.
Instructor Bios
Instructor: Rodney Bulthouse
Mr. Bulthouse is a graduate of Fruitport High School. He went on to attend Baker College and the National Labor College. His industry experience includes working as a journeyman sheet metal worker before teaching Welding Technology here at the Tech Center. He is also an adjunct instructor in the Welding program at Muskegon Community College. In his free time, he enjoys cruising around in his Jeep or on his motorcycle as well as salt water fishing.
Parapro: Sam Wackernagel
Mr. Wackernagel is a graduate of Montague High School and the welding program at Muskegon Community College. Before starting at the Career Tech Center, Sam worked at White River Farms where he performed maintenance welding and served as a heavy equipment operator. In his free time, he enjoys swimming, relaxing, and getting ice cream. He also likes to sneak a peek at all the cool equipment at John Deere by touring their plant in Illinois when he can get away.
Helpful Links:
State of Michigan Curriculum Segments

Occupational Orientation
Safety and Health for Welders
Shielded Metal Arc Welding (SMAW)
Manual OxyFuel Gas Cutting (OFC)
Flux Cored Arc Welding (FCAW)
Drawing and Welding Symbols
Gas Metal Arc Welding (GMAW)
Mechanized OxyFuel Gas Cutting (OFC)
Gas Tungsten Arc Welding (GTAW)
Plasma Arc Cutting (PAC)
Weld Inspection and Testing
Carbon Arc Cutting (CAC-A)