Electrical/Computer Technologies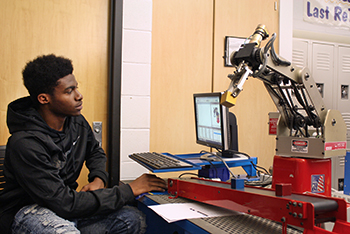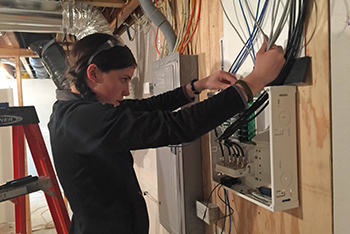 Electrical/Computer Technologies
Students install high/low voltage and data wiring systems, explore alternative energy and robotic programming, use millimeters, wave generators, and oscilloscopes, and operate a computer and electronics repair store. CompTIA A+, Electrical Interim Credential, ETA RESI-Residential Electronics System Integrator, and OSHA 10-Hour Safety certifications are available in addition to fourth-year math and college credit. Related careers include, but are not limited to, electrician, telecommunications technician, home security installer, computer and electronics repair technician, engineering, and robotics
Download the Electrical/Computer Technologies brochure.
College Credit
Students who successfully complete this course may receive articulated college credit to the following schools: Baker College, Davenport University, Grand Rapids Community College, and Muskegon Community College. For information on how to earn articulated credit contact Lindsay Pulsipher at the CTC.
Students who successfully complete this class may earn direct credit to Muskegon Community College. Our direct credit flier has a list of all participating classes.
Tour the classroom
Enjoy this tour of the Electrical/Computer Technologies classroom and lab featuring a variety of hands-on training modules such as circuit boards, robotics and automation, residential wiring, renewable energy and more.
Instructor: Brian Blanchard
Mr. Blanchard graduated from Manistee High School before attending Michigan Technical University where he earned his associate's degree in Mechanical Design/Engineering Technology and Electromechanical Engineering Technology. He also has a Bachelor's of Science in Manufacturing Engineering Technology and an Master's of Science in Career & Technical Education from Ferris State University. Before teaching he had over twelve years of industry experience working as a manufacturing supervisor, quality engineer, account manager, and director of engineering and sales. He enjoys outdoor sports and spending time with family and friends.
Helpful Links:
State of Michigan Curriculum Segments

AC/DC–Electrical Fundamentals
Safety
Principles of Power Conversion
Documentation/Communication
Electrical Test Equipment and Measurement
Cabling and Soldering
Controls
Tools, Fasteners, Equipment
Prototype and Design and Manufacturing
Information Technology Application
Employability Skills, Careers, Work Habits, Teamwork
Problem Solving and Critical Thinking