Construction Trades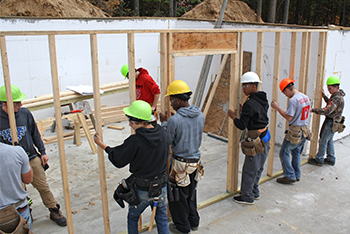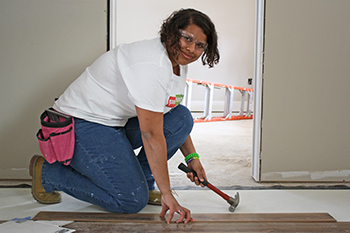 Course Overview
Students learn carpentry, masonry, drywall and roofing as they build an entire house from start to finish. OSHA 10-Hour Construction Safety certification and Michigan 60-Hour Pre-license Builder training are available in addition to fourth-year math and college credit. Related careers include, but are not limited to, skilled trades like plumbing, HVAC, electrical, and masonry as well as drywall, painting, construction management, estimating, sales, and design.
Download the Construction Trades brochure.
College Credit
Students who successfully complete this course may receive articulated college credit to the following schools: Davenport University and Washtenaw Community College. For information on how to earn articulated credit contact Lindsay Pulsipher at the CTC.
Students who successfully complete select CTC courses may receive direct college credit to specific colleges and universities. Direct credit is currently unavailable for this program. Our direct credit flier has a list of all participating classes.
Instructor Bios
Instructor: Holly Pontius Stout
Bio: Ms. Pontius has worked in the construction industry for over 15 years. She has a Bachelor of Science in Construction Management from Central Michigan University. Ms. Pontius has worked in residential construction management and custom home construction, as well as Habitat for Humanity.
Instructor: Lonnie (Chip) Vasquez
Bio: Chip is a 1993 graduate of Mona Shores High School. After graduation he moved to Gainesville, Florida where he pursued a career in professional golf before moving back to the area to take advantage of a golf scholarship at Muskegon Community College. Since then he has work construction as well as coached girl's lacrosse. In his free time he enjoys playing golf and watching college football.
Paraprofessional: Dawson Postema
Bio: Dawson is a 2019 graduate of Whitehall High School. He's also a former CTC Construction Trades student! In 2016, Dawson started his own construction business, Exceptional Exteriors, LLC. In his free time he enjoys skiing, snowmobiling, and boating.
Helpful Links:
State of Michigan Curriculum Segments

Safety, Health, and Environmental
Industry Overview
Employability Skills and Technology Skills
Construction Materials
Construction Tools and Equipment
Building Construction Design--blueprint, etc.
Site preparation and infrastructure
Common construction practices--concepts flooring, foundation, etc
Residential Construction Techniques (Carpentry)
Green Technology Construction Techniques
Heavy Equipment/Civil Construction Techniques
Construction Business Management