Software Design & Development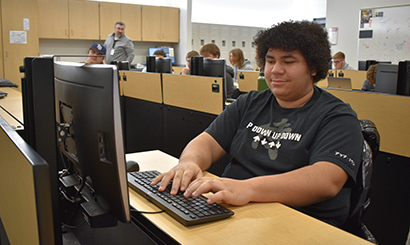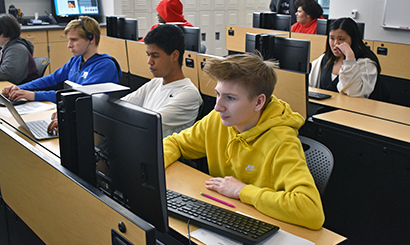 Course Overview
Students learn skills in software design and programming (C#), web development (HTML/CSS), game development (Unity), virtual reality (Unity/Oculus), and cybersecurity Students may earn professional certifications such as Certiport certifications in Software Development, Computational Thinking, Artificial Intelligence, HTML and CSS, Unity and more. Related careers include, but are not limited to, software developer, security analyst, video game developer, data forensics analyst, and web developer.
Download the Software Design & Development brochure.
College Credit
Students who successfully complete this course may receive articulated college credit to the following schools: Baker College, Davenport University, Ferris State University, Grand Rapids Community College, and Muskegon Community College. For information on how to earn articulated credit contact Lindsay Pulsipher at the CTC.
Students who successfully complete select CTC courses may receive direct college credit to specific colleges and universities. Direct credit is currently unavailable for this program. Our direct credit webpage has a list of all participating classes.
Tour the classroom
Enjoy this tour of the Internet, Network and Security Technologies classroom featuring individual computer work stations, cyber-security training network in the back row, and Cisco academy router and switches.
Instructor Bio
Instructor: Chris Brown
Mr. Brown is a graduate of Fremont High School. He has worked professionally in the fields of networking, software development, and telecommunications for over 20 years. He's certified in Cisco CCNA, Fortinet NSE 4, and various certifications in Voice over IP (VoIP) and Linux Administration. When he's not teaching, he enjoys listening to music as well as playing the bass, the guitar and drums. He also enjoys reading and playing video as well as board games.
Helpful Links:
State of Michigan Curriculum Segments

PC Hardware
Troubleshooting, Repair, & Maintenance
Operating System & Software
Safety
Security
Operational Procedure
Network Technologies
Network Hardware & Tools
Personal Skills & Customer Service
Network Management
Teamwork & Leadership
Network Analysis & Design