Allied Health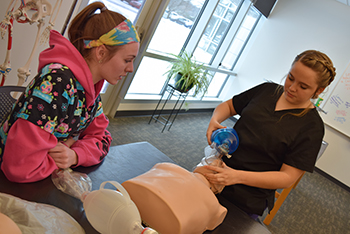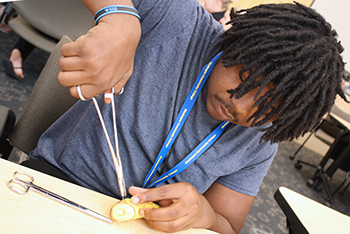 Course Overview
Students explore health care careers, learn basic anatomy and physiology, and practice patient care skills. Blood Borne Pathogen, CPR, AED, and first aid certifications, as well as English credit and college credit, are available. Related careers include, but are not limited to, athletic trainer, biomedical scientist, certified nursing assistant, medical assistant, physical/occupational therapist, nurse, pharmacist, physician assistant, radiologic technologist, surgical technologist, and ultrasonographer.
Download the Allied Health brochure.
College Credit
Students who successfully complete this course may receive articulated college credit to the following schools: Baker College, Davenport University, Ferris State University, Grand Rapids Community College, Mid Michigan College, and Washtenaw Community College. For information on how to earn articulated credit contact Lindsay Pulsipher at the CTC.
Students who successfully complete select CTC courses may receive direct college credit to specific colleges and universities. Direct credit is currently unavailable for this program. Our direct credit webpage has a list of all participating classes.
Tour the classrooms
Enjoy these tours of our Allied Health 1, 2, and 3 classrooms. Each space features professional equipment such as medical beds, walkers, wheel chairs and other patient-care devices to prepare students for work in the healthcare field.
Instructor Bios
Instructor: Colleen Hallorah-VanderWier, Allied Health
Bio: Mrs. VanderWier is a graduate of Muskegon Catholic Central High School. She then went to Muskegon Community College where she earned her associates degree before moving on to GVSU where she earned her bachelor's degree in Health Science and a Master's Degree in Physical Therapy. She has been a physical therapist for 26 years including work at Muskegon Public Schools as a physical therapist. She has also worked in long-term care and inpatient rehab at Mary Free Bed Hospital. In her free time she enjoys spending time outdoors with her husband hiking, biking, snow shoeing, and sailing. She also loves to read and travel whenever possible.
Instructor: Shannon Rowley, Allied Health
Bio: Mrs. Rowley is a graduate of Spring Lake High School as well as Baker College and Central Michigan University. She has worked as an Exercise Physiologist/Physical Therapist Assistant, has 15 years of clinical experience in Acute and Long Term Care settings, and has served as an Instructor/Lab assistant at Baker College (part-time) in the Physical Therapist Assistant program. In her free time she enjoys spending time with her husband and three children as well as fitness, skiing, and keeping active.
Parapro: Cynthia (CJ) Brocker, Allied Health
Bio: Mrs. Brocker graduated with a MA in Career & Technical Education from Western Michigan University, a BBL from Baker College, and an AAS in Occupational Therapy Assistant from Grand Rapids Community College. She has worked in various clinical settings including Spectrum Health, Mary Free Bed Rehabilitation Hospital, OrthoSEAT, and Airway Oxygen. She has taught at Careerline Tech Center in Ottawa County and Baker College's Occupational Therapy Assistant Program. In her free time she enjoys traveling, photography, and reading.
Parapro: Breann Stewart, Allied Health
Breann is a graduate of Muskegon High School. She earned her Associates in Art and Science from Muskegon Community College and went on to earn her Bachelor's Degree in Allied Health with a minor in Sociology from Grand Valley State University. Before coming to the CTC, Breann served as a Rehabilitation Tech at Hope Network Neuro Rehab, a Behavioral Tech at Hope Network Behavioral Health, and a long-term substitute teacher at Dr. Martin Luther King Elementary School. In her free time she enjoys practicing yoga, watching movies, trying new sushi restaurants, and thrift shopping.
Helpful Links:
Competencies
Academic Foundation
Legal Responsibilities
Health Maintenance Practices
Communication
Ethics
Technical Skills
Systems
Workplace Safety Practices
Information Technology in Healthcare
Employability Skills
Teamwork in Healthcare
Career Ready Practices