Cosmetology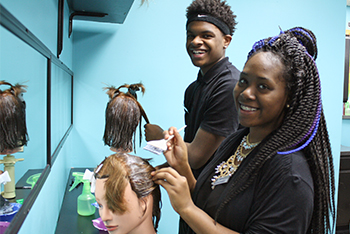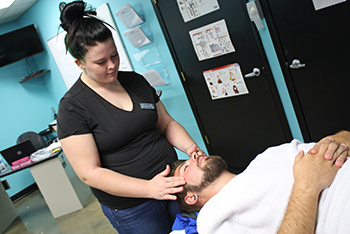 Course Overview
Students gain hands-on experience in haircutting, styling, perms, relaxers, coloring, foiling, skin care, waxing, manicures, pedicures, and makeup. Those who complete the necessary 1,500 hours of experience may take the State of Michigan Cosmetology Exam and earn their Michigan Cosmetology License. College credit is also available. Related careers include, but are not limited to, hairstylist, esthetician, salon owner, and salon manager
Download the Cosmetology brochure.
College Credit
Students who successfully complete this course may receive articulated college credit to the following schools: Davenport University, Ferris State University, Kirtland Community College, and Washtenaw Community College. For information on how to earn articulated credit contact Lindsay Pulsipher at the CTC.
Students who successfully complete select CTC courses may receive direct college credit to specific colleges and universities. Direct credit is currently unavailable for this program. For a list of programs that offer direct credit visit our Direct Credit page.
Instructor Bio
Instructor: Autumn Wonsey
Bio: Autumn's journey into the world of cosmetology started after graduating from high school in 2014 when she enrolled at the prestigious Douglas J Aveda Institute.
After obtaining her cosmetology license, Autumn began her career at Aveda, where she gained valuable experience eventually leading her to an exciting opportunity working at the renowned Grand Hotel on Mackinac Island for four consecutive summers.
In 2020, she acquired her cosmetology instructor's license from Moored Beauty Schools. She has found immense joy sharing her knowledge and passion with her students. Her teaching style is characterized by a fun and interactive approach, incorporating engaging activities, dance parties, and creative projects into the classroom, all while ensuring a strong foundation in the fundamentals of cosmetology.
Helpful Links:
Competencies
Hair Color
Hairdressing
Chemical Hair Restructuring
Haircutting & Hair Treatments
Nail Care
Salon Management
Career Ready Practices