Computer-Aided Design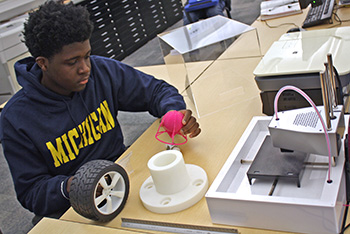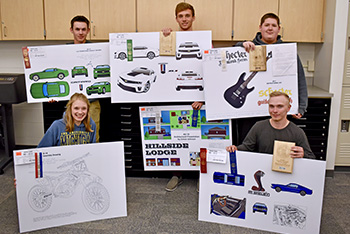 Course Overview
Students create standard drawings for engineering and architecture, communicate ideas for products and designs, use cutting edge software from the design industry, create 2D and 3D drawings, and practice 3D printing.Fourth-year math and college credit are also available. Related careers include, but are not limited to, mechanical, automotive and aerospace engineering, industrial design, architecture, interior design, CAD/CAM, and construction management
This is also part of the Early College: Advanced Technology Institute program at Muskegon Community College.
Download the Computer Aided Design brochure.​

College Credit
Students who successfully complete this course may receive articulated college credit to the following schools: Baker College, Davenport University, Grand Rapids Community College, and Muskegon Community College. For information on how to earn articulated credit contact Lindsay Pulsipher at the CTC.
Students who successfully complete this course may receive direct college credit to Muskegon Community College. Our direct credit webpage has a list of all participating classes.
Tour the classroom
Enjoy this tour of the Computer Aided Design classroom featuring wide screen monitors at each work station, a high-quality large format printer for printing projects, 3D printers for prototyping, and samples of student work displayed on the walls.
Instructor Bio
Instructor: Troy Foster
Bio: Mr. Foster is a graduate of Grand Haven High School and Calvin College. He earned his Bachelor of Science in Industrial Arts at Western Michigan University in 1991, Master's Degree in Instructional Technology at Grand Valley State University in 2004, and Master's Degree in Educational Leadership at Grand Valley State University in 2012. His industry experience includes being a Project Manager in Architecture for Herman Miller in Zeeland, an Engineer for Flairwood Industries in Norton Shores, and as an Architect for Progressive Architects, Engineers, and Planners in Grand Rapids. In his free time, he enjoys boating, landscaping, and athletics such as softball, biking, and weight-training.
Helpful Links:
State of Michigan Curriculum Segments

Career and Employability Skills
Engineering Technology and Safety
2D Drawing
Geometric Construction
Orthographic Projection
3D Parametric Modeling
Dimensioning and Tolerances
Supplemental Views
Engineering Drawings
Manufacturing Process
Design Concepts
Research and Development​