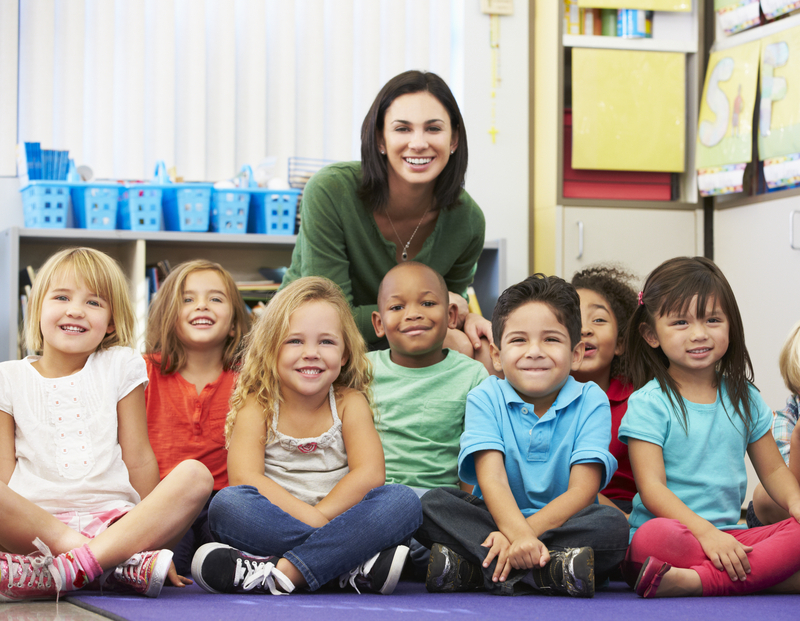 Head Start of Muskegon/Oceana
Head Start is a federally-funded child development/preschool program serving low-income children and families. Nearly one million American children are currently enrolled in Head Start programs.
The MAISD partners with area school districts to serve 666 children throughout Muskegon and Oceana counties. The program's main goal is to provide a high-quality, comprehensive preschool program and thus help prepare our community's children for success in school and in life. Research shows that learning and development during the years from birth to age five are critical to a child's future success.
Children qualify for Head Start in a number of ways:
A child must be age three or four as of December 1st of the school year.
The family receives certain types of public support for the child (such as TANF or FIP payment, SSI payments, etc.)
Foster child
A child qualifies under the federal definition of homeless
Up to ten percent of enrolled children may be "over-income"
Rather than trying to figure out by yourself whether your child qualifies, it is best to speak with a Head Start staff member. The rules can be confusing, and if your child does not qualify for Head Start, staff may be able to refer you to other preschool programs. Please call the MAISD at 231-767-8300 for more information about Head Start.
Are there other preschool options?
Many school districts offer a free state preschool classes for four-year old children called "Great Start Readiness Program (GSRP)." Income requirements for this program are much higher than for entry into Head Start. Some districts also offer a tuition based preschool program. Please contact your local school district for more information regarding these programs. Head Start staff can also make these referrals.
How much does Head Start cost?
There is no cost to attend Head Start. It is free to eligible children.
When should my child apply to Head Start?
Applications are taken all year. Typically, beginning in February parents start applying for next fall's program. Applying early is strongly encouraged!
What is required to apply to Head Start?
To make sure each child is healthy and ready to learn, copies of the following documents are required: Child's latest immunization records, last health and dental exams, and other health history records. Also required is a copy of the child's birth certificate, a completed Head Start application, emergency contact information, and proof of family income.
If any document is not available, Head Start staff works with families to get them completed.
Why are there waiting lists for Head Start?
The federal government gives Head Start of Muskegon/Oceana 666 "slots" – or classroom openings. Unfortunately, many more children in our community are eligible, and often the waiting list exceeds 200 children.
As required by federal regulations, a "priority grid" is used to make placement decisions of children. For example, four-year-old children receive more "points" than three-year-old children since all children should attend at least one year of pre-school before entering kindergarten. That being said, about 40 percent of all children in Head Start of Muskegon/Oceana begin as three-year-olds.
Can my child attend Head Start with a disability?
Absolutely. More than ten percent of all children attending Head Start have special needs. Head Start staff works closely with local special education departments to ensure proper placement and services for any child with an Individual Education Plan (IEP).
Where are Head Start classrooms located?
To learn more about a Head Start program in Muskegon County, please contact the district in which you live:
Fruitport Community Schools, 231-865-2497
Holton Public Schools, 231-893-1091
Mona Shores Public Schools, 231-865-2497
Montague Area Public Schools, 231-893-1091
Muskegon Heights, 231-830-3250
Muskegon Public Schools, 231-720-2560
North Muskegon Public Schools, 231-893-1091
Orchard View Public Schools, 231-760-1787
Ravenna Public Schools, 231-760-1787
Reeths-Puffer Schools, 231-893-1091
Whitehall District Schools, 231-893-1091
To learn more about Head Start program in Oceana County, please contact one of the districts nearest you listed below:
Hart Public Schools, 231-873-6330
Shebly Public Schools, 231-861-6629
For general information or assistance, you may contact the Muskegon Area ISD at 231-767-8300.
How often do Head Start classes meet?
Head Start classrooms traditionally operate September through May for approximately 153 days. The majority of classes are held for the whole school day, but some locations offer half-day sessions in either the afternoon or morning. Classes are held Monday through Thursday.
Head Start requires that children receive at least one-third of their daily nutritional requirements as outlined by federal standards. Healthy and nutritious breakfasts, lunches, and snacks are provided to all children. A Head Start Registered Dietician reviews all menus as well as works closely with families of any child with allergies needing special accommodations to meal menus.
An important part of the Head Start program is developing healthy eating habits and broadening children's exposure to different foods. Head Start classrooms have ongoing "food experiences" which children try different foods in fun and imaginative ways. In addition, the program has put in place policies such as "no sweets" in the classroom in order to promote healthy snacks and alternatives. We ask parents not to send candy or other sweet treats to classrooms.
Is transportation provided?
Although not required by the federal government, Head Start of Muskegon/Oceana provides bus transportation at some locations. Due to state child care license rules, a child may not be on a bus longer than one hour. This requires that some children are picked up at group locations or not offered transportation at all.
What happens in the Head Start program?
Based on research and decades of experiences, Head Start activities focus on eight domains: Language Development, Literacy, Mathematics, Science, Creative Arts, Social & Emotional Development, and Physical Health & Development. All Head Start classrooms use Creative Curriculum for Preschool, a scientifically-based curriculum, along with an internet-based child assessment system to measure progress and make program improvements. In addition to focusing efforts on these domains, the Head Start program dedicates significant efforts on involving parents in activities including multiple home visits and parent-teacher conferences. Nutrition, mental health, health care and dental visits are also part of the program.
For a further description of the program, see the Head Start annual report.
Will my child be able to read after finishing Head Start?
Head Start of Muskegon/Oceana believes in developing the building blocks of reading and writing, much like when a child learns to crawl before learning how to walk. However, this does not mean a child will be reading and writing by the time their time ends in Head Start. What is most important is that a foundation is established with each child recognizing that every child learns and develops at his or her own pace. This approach helps prepare children for their kindergarten years and beyond.
Is there any research that shows Head Start's success?
The Head Start Impact Study was conducted in 2006 looking at 1,600 student records of children in Muskegon and Oceana counties. The research showed that on third grade MEAP scores former Head Start children scored equal to all other children in reading and slightly lower on math skills. Given that there exists an "achievement gap" nationally among children of lower economic means versus children of higher incomes, these results show that Head Start works in preparing children for successful school years.
Are parents involved in Head Start?
Parents are key to a child's development and learning. Parent involvement is strongly encouraged and welcomed in Head Start. Numerous family activities are planned throughout the year, and parents are supported in working on projects and activities at home with their child. Regular home visits and parent-teacher conferences are held during the school year. Parents also have the opportunity to serve in leadership roles making decisions about the program through the Policy Council.
Heather Nummerdor