Read early. Read often. -
Talk, Read, Sing
Talk, Read and Sing Every Day, and Everywhere to give our children the best chance for success! Get online tips and local FREE resources texted to you weekly by texting THRIVE to 27448 or signing up here today!
This countywide effort urges parents, siblings, grandparents, and community members to read to infants and toddlers every day, everywhere, and everything. It also provides tips and messages from the national Talking is Teaching campaign to help caregivers build literacy skills in everyday moments, even when reading is not possible.
Currently over 100 Trusted Messengers, including business, agency, education, library, media, faith, medical, government, and community partners have come together to spread the word with posters, yard signs and other high-quality materials in public spaces. Book distribution partners are also helpin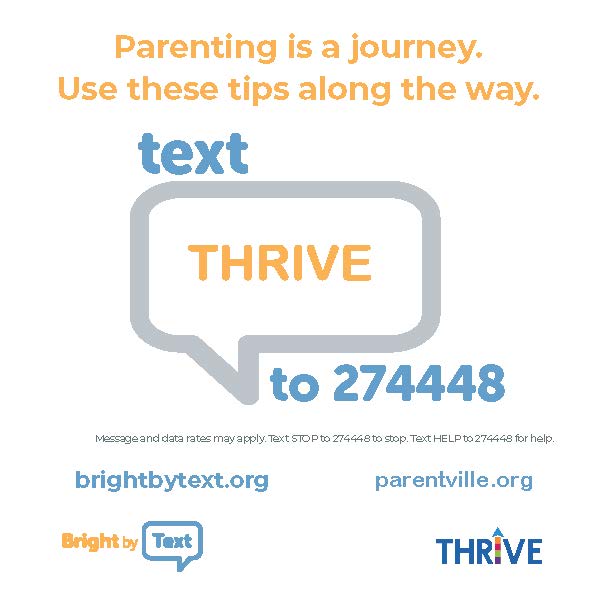 g to get books into the hands of families who need them. For more information about how to be a Trusted Messenger or Book Distribution Partner: Contact Allison Keessen, (231) 767-7285 or akeessen@muskegonisd.org.
Muskegon County Business Owners: Help Us Spread the Message to Your Employees
Win a Gift Card and Birthday Books!
If you have a child age 0 to 8 years old, you could win a FREE $25 Meijer Gift Card and Books in their birthday month!
Open the form, fill it out, and click the 'Submit' button.
It's that EASY! Enter just one time and your child will be entered into the monthly drawing during their birthday month each year until they turn 8. A winner is drawn every month. Special thanks to Meijer for donating the gift cards.
Enter to Win a Bundle of Books!
Help spread the Read early. Read often. mission by posting a picture of your family reading together on the Read early. Read often. Facebook page, share it with your friends, and ask them to Like and Follow Us on Facebook. Everyone who submits a photo will be entered into a monthly contest for a bundle of books!

Join our Weekly Virtual
Storytime!
Join us on Facebook every Thursday at 10:30 am for a Virtual Storytime with a local early childhood educator or community leader! Watch the storytime LIVE and comment and interact with us in the moment or watch it later at your convenience.
Register for a Play & Learn Group
Give your child a great start by visiting a Play & Learn Group for Babies, Toddlers, and Preschoolers when they resume. Sign up for our e-newsletter and keep checking our community calendar for more virtual programming while when these in-person programs are suspended due to COVID19.
Reading to Infants!


Are you curious about what, when, and how to read to your new baby? Check out our video
"Reading To Infants".
Also, download all 20 tips from our One Minute Talking Tip Facebook Album for more ideas about how you can help your baby grow into a successful reader!

THANK YOU MUSKEGON COUNTY!
Over 750 people including families, early childhood and community service representatives, volunteers and community leaders helped celebrate the 6th anniversary of the launch of the Read early. Read often campaign on March 7. The event was a tremendous affirmation of the importance of all the early childhood and early literacy work that is happening in our community. It was also an amazing testimony to our extremely collaborative community!
SPECIAL THANKS to more than 50 local sponsors for their support of this event! Presented by Muskegon County's Great Start Parent Coalition and MILakeshoreKids.com in honor of National Reading Month.