Maple Ridge One-Room School
Maple Ridge One-Room School

"The most important factor in determining how much readers will comprehend and how well writers will be able to communicate about a given topic is their level of knowledge…"
Richard L. Allington & Patricia. M. Cunningham: Schools That Work – Where All Children Read and Write, 2007.
"We should resist the temptation to think that more time spent on literacy is always better."
Dr. Nell Duke, Why Literacy Educators Need to be Advocates for Science and Social Studies, 2016
A visit to the Maple Ridge School provides the foundational knowledge for students to understand complex text about the past. It incorporates many Michigan Social Studies Standards and Benchmarks. You can explore these connections by clicking through the links below for grade levels.
Planning Your Visit
Step 1: Pick a date
Take a look at available dates on the registration form and find one that fits your schedule.
Step 2: Customize your trip
Go through your grade's GLCEs and pick the ones that the lessons will be based on at the schoolhouse. Summaries are provided on the grade-level documents linked above.
Step 3: Use our provided pre-activities
Most of our lessons have pre-learning activities that you can do to prepare your students for their trip to the schoolhouse.
What you can expect during your visit
A variety of activities that are customized for your class.

A short "living history" of what daily life was like for a child the same age as your students in 1885.

An old-fashioned recess complete with toys.

An on-side Coordinator to lead the activities and answer questions.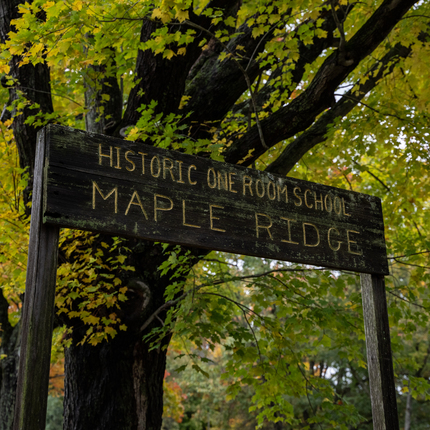 Additional Resources

Frequently Asked Questions (FAQs)

Fun Facts
Maple Ridge school was used from 1887 to the early 1960s.
Only a handful of the 100 one room schoolhouses in Michigan still stand.
Some one room schoolhouses were called chatter or blabber schools.
Last day of school was always a picnic in the yard for all of the students in the school.







Questions, Comments, and Suggestions may be directed to:
Kristen Renes
Social Studies and Special Projects Consultant
Contact Kristen Renes via email
(231) 767-7255
Sandy DeJonge, Registrar
Contact Registrar via email
(231) 767-7278
Address:
Maple Ridge School
1659 North Buys Road
Muskegon, MI 49445