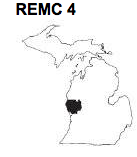 Regional Educational
Media Center
Serving Muskegon, Newaygo and
Oceana Counties
Created in 1970, the REMC Association of Michigan is a collection of regional REMC's, operated through the intermediate school district structure, providing various programs and services locally as well as collaborating together on statewide programs. Through collaboration, leadership and service, the 22 regional and 6 auxiliary REMC centers support their constituents to improve teaching and learning statewide.
REMC 4 membership is based on a per pupil fee schedule and services provided include the following:

Statewide Cooperative Purchasing
Online access to digitized media
Poster printing
Lamination services
Student testing materials
Professional development materials
Assistive technology devices
Button maker
Contact Andy Mann, Instructional Technology Consultant, at 231-767-7242 for information on REMC 4 membership fees.
Resources