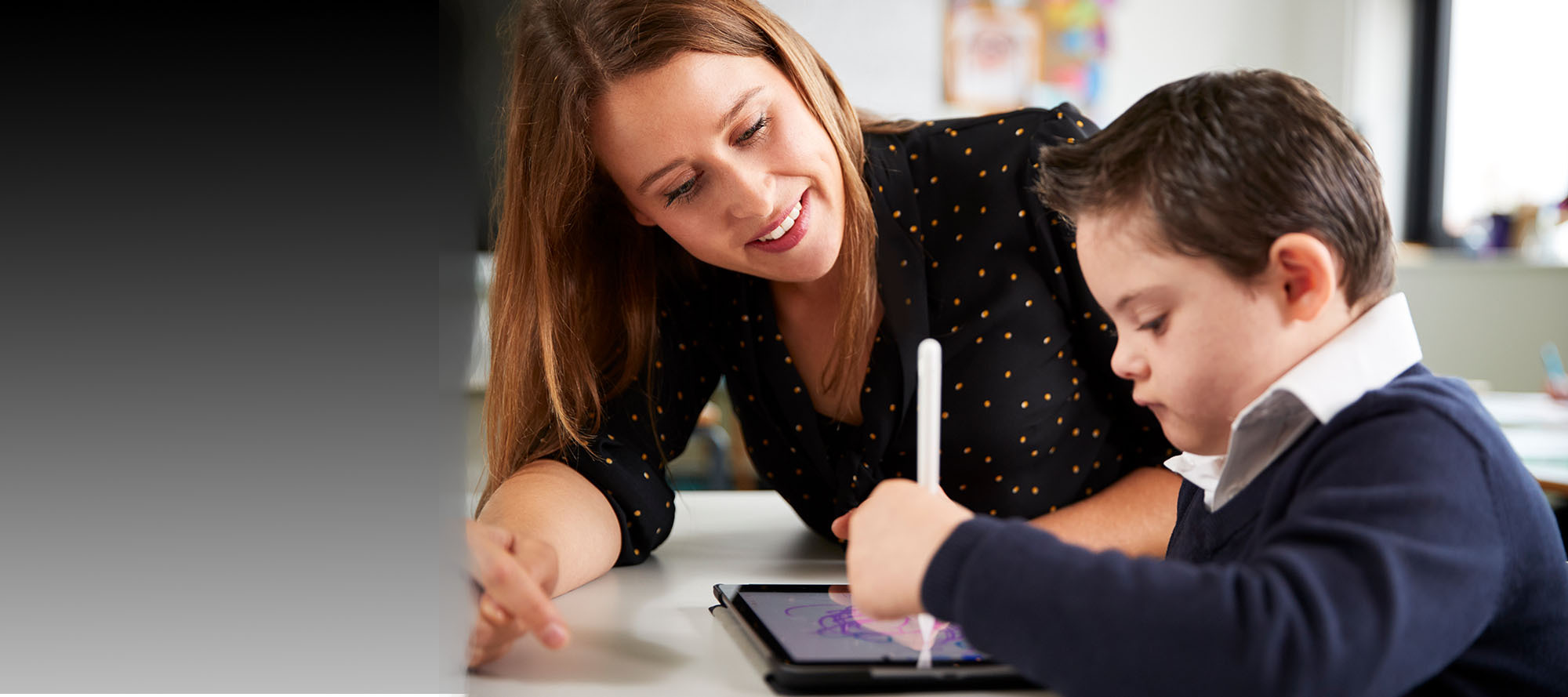 Assistive Technology
& Augmentative/Alternative Communication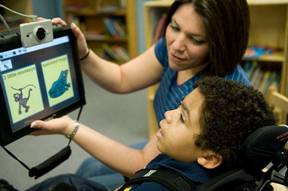 The Assistive Technology (AT) and Augmentative and Alternative Communication (AAC) Consultants work in cooperation with local school districts' teams in Muskegon County to provide training, coaching, and other services to support students experiencing learning and communication challenges. The focus of AT/AAC training and coaching services is the development of knowledge and of skills with AT or AAC tools to ensure equal access for all students to instruction. These services range from the individual student to classroom-wide and building-wide implementation of supports.
Assistive Technology Loan Library
Examples of Service
Individual consultation
Individualized access to curriculum and instruction for students with high incidence disabilities.
Student-specific literacy, language, and communication supports as well as curriculum access for students experiencing low incidence disabilities.
Classroom or building support (high-incidence)

Classroom or building-level support to build access to curriculum and instruction for students with high-incidence disabilities.
Classroom-based support of literacy, language and communication for programs supporting students with complex communication and learning needs.
AT/AAC Loan Library
Opportunity for short-term loans of AT and AAC equipment in order for districts to explore available options and determine the best fit prior to acquisition.
AT/AAC Trials

Support for teams in trialing, selecting and implementing AAC and AT options to meet communication, language, and/or instructional needs.
Professional Development
Support/capacity-building for district SLPs, OTs, PTs and general education and special education teachers in providing access to instruction, language, and communication through AT and AAC.
Team & Family Training
Communication partner training and coaching to support communication and language needs.
Training on AT devices/resources for school team members and families, as needed for successful implementation.
Intended Audiences
Individual or group of special education teachers/practitioners and the classroom teachers of students they support (grade levels, departments, etc)
Occupational therapists (OT) and physical therapists (PT)
Speech-language pathologists (SLP)
District administrator and/or special education supervisor/director
School building or district leadership team
District or county-wide groups (OT and SLP Communities of Practice)
Delivery Methods
Coaching for district SLPs and teams around AAC supports and strategies
♦ Intensive in-classroom support for area students, SLPs , teachers, para, parents and families
on effective AAC implementation strategies
♦ Integrating AAC supports and language and learning needs
County-wide collaboration and training around AAC strategies and supports to build capacity
Planning and facilitation of quarterly SLP and OT Community of Practice meetings
Universal Design for Learning (UDL) professional learning & coaching services
Professional learning, coaching, and intensive in-classroom support to educators and administrators to enhance access to curriculum and instruction for students with disabilities
Networks Supported
SLP Community of Practice
OT Community of Practice
Supporting Students with Significant Needs Community of Practice
Referral Request Form Link
Request for Consultation
Supporting educators in developing the full potential of every student through professional development, program innovation, coaching and consultation.
Corinn Hower
Assistive Technology Consultant
Jim Kauppila
Assistive Technology Consultant
Theresa Augustyniak
Augmentative & Alternative Communication Consultant