May 24, 2023
Muskegon Area Promise to Expand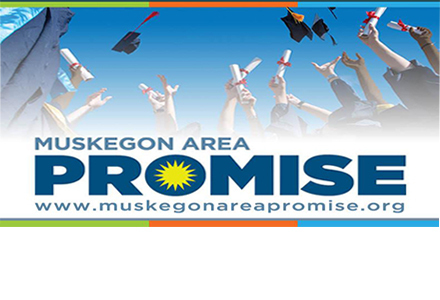 In an unprecedented move to further invest in the future of Muskegon County, the Muskegon Area Promise Zone Authority Board is proud to announce an expansion of its eligibility requirements, a change expected to benefit over 850 local students.
In a mission to broaden the life-changing opportunity to more of Muskegon's youth, the Promise Zone Authority Board has significantly revised the Promise scholarship's criteria. Students now only need a 3.25 GPA or to rank within the top 30% of their graduating class to qualify. Significantly, students enrolled in the Career Tech Center may be eligible for the Promise, subject to conditions determined annually by the Authority Board. This offers a more accessible pathway to higher education. This strategic broadening of the eligibility requirements underscores a commitment to inclusivity.
"This expansion is a testament to our commitment to offering access to generation-changing education for all Muskegon County students," stated Megan Byard-Karaba, the College Access Specialist at the Muskegon Area Intermediate School District (MAISD). "The Promise is more than just a scholarship. It's an investment in the future of Muskegon."
This move is expected to open doors to students who may not have previously considered higher education an attainable goal, including first-time college graduates.
Randy Lindquist, the Superintendent of the MAISD, echoed these sentiments. "Our goal has always been to create opportunities. By broadening the eligibility requirements, we are doing just that. We're ensuring that a greater number of our talented students have access to the education they deserve, right here in beautiful West Michigan."
The announcement of these changes was made Friday, May 19th at the Muskegon Area Chamber's Business for Breakfast, a gathering of nearly 200 local business leaders.
Established in 2015, the Promise has enabled 1,656 students to pursue their academic dreams at Baker College and Muskegon Community College; fostering local talent and contributing to the economic vitality of the county. For more information on the Muskegon Area Promise Scholarship program, please visit www.muskegonareapromise.org
Contacts:
Randy Lindquist, Superintendent at 231-767-7201 or rlindqui@muskegonisd.org
Megan Byard-Karaba, College Access Specialist at 231-767-3623 or mbyard@muskegonisd.org